A New Kind of Science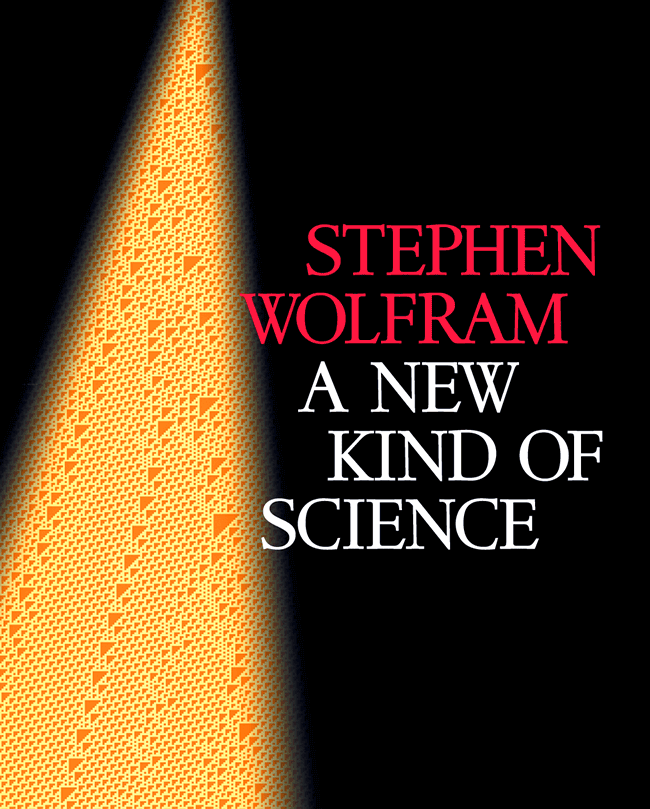 A New Kind of Science (referred to as ANKOS from now on) is an immense tome written by Stephen Wolfram in virtual isolation over a ten year period.
Like most cellular automata enthusiasts I was interested in seeing the book once I first heard about it and I grabbed a copy when it was first available in the local book shop. When I first purchased ANKOS I was hoping to get some ideas for new cellular automata from the book to add to Visions of Chaos. What really happened is that after skimming through it a few times it went on the bookshelf and was never referred to again.
For many more detailed reviews of the book you can refer to the Amazon reviews and this collection. I am not qualified to judge if there is a "new kind of science" contained within the many pages, but the general consensus seems to be that the book does not contain a new kind of science and that someone should never ever write a book of that size without an editor and without peer review. If anything, ANKOS is a good lesson on how not to write about something you have done or discovered.
The other day I took the book off the shelf again and cracked it open, still in pristine condition other than the layer of dust that had gathered over the past 18 years. This time I am looking specifically for ideas that I can program and add to Visions of Chaos. ANKOS is a high quality book in terms of physical production value but some of the diagrams and font sizes (especially in the notes section) can be a strain for my not so perfect eyes. Luckily Wolfram provides the entire book online so I can read (and zoom) that version much more easily. Having the book online is appreciated as I can easily link to specific sections of the book directly. Physical ANKOS went back on the shelf again. Maybe forever this time.
Over the past three days I implemented the following nine cellular automata types from ANKOS that I had not previously included with Visions of Chaos.
1D Cellular Automata
Page 60 – Three Color Totalistic Automata.
Page 73 – Extended Mobile Automata.
Page 76 – Generalized Mobile Automata.
Page 156 – Continuous Automata.
Page 460 – Two State Block Cellular Automata.
Page 461 – Three State Block Cellular Automata.
2D Cellular Automata
846 pages later I am done.
See my ANKOS album on Flickr for more images from ANKOS.
Final Summary
I had a bunch of other complaints about the book here that I deleted. Everything I wanted to say has been covered in other reviews. Besides that I do try and keep to the "if you don't have anything nice to say, then don't say anything at all" adage in this blog.
Was I glad I went back and opened ANKOS again? Yes, overall I did find some interesting new cellular automata to play with. I have experimented with cellular automata of many types over the years and while I do find them very interesting I doubt that they will be the answer to everything, but hey, what do I know?
I do know that if anyone shows any interest in my copy of the physical book it will be thrust into their eager hands with my insistence that they take it as a gift and not a loan.
Jason.